Miss Teen Keystone State Rodeo 2024- Aneli Satterly
Aneli Satterly is a talented and a dedicated 13 -year-old with a remarkable passion for rodeo. With a lifelong love for horses, she has been riding since a young age and has embraced the world of rodeo with enthusiasm.From acquiring her first horse at the age of 9, to her current journey of training a horse for roping their commitment shines through. Alongside her mom and boss, she is also embarking on the exciting endeavor of training her own filly. Her dedication, skill, and love for rodeo makes her a true asset to the equestrian community.
Aneli was just crowned Miss Teen Keystone State Rodeo 2024 this past weekend in Harrisburg, Pennsylvania!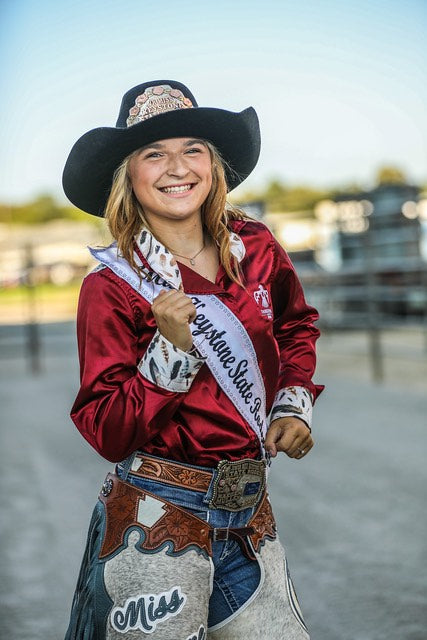 JR Miss Keystone State Rodeo 2023- Raegen Mullen
Raegan Mullen is a 17-year-old cowgirl who resides in Jackson Center, Pennsylvania. She has been rodeoing for 10 years now and has grown to have a strong passion for the sport. She competes in many different events including Barrel Racing, Pole Bending, Girls Breakaway Roping, and Goat Tying. Her biggest achievement was winning the senior all around cowgirl title in 2022 at her local youth rodeo. She is currently attending classes at Mercer County Career Center for the nursing program they offer. Her future hope is to attend Penn State and become a Pediatric Nurse.
Lil Miss Keystone State Rodeo 2023- Kylie Shuffstall
Kylie is a 12-year-old cowgirl from Meadville, Pennsylvania. She tells everyone she's been riding since before she could walk and that she was born to ride. She is a member of the Buckles and Breeches 4-H Club, where she has competed at states in English riding for the last 3 years. This year was special because she got to show her 5 year old Chincoteague Pony that she raised and broke out all on her own. She has always had a love for barrel racing, last year she retired her heart pony due to him turning 25 years old. She is now currently training her new horse, Chick, to be her next best partner.
Kylie is also a member of YEDA, and because of that, she got to traveled to Tennessee last year and compete at Nationals where she was awarded High Point Rider. This year, she decided to try something new and tried her hand in the reigning arena. She has quickly fallen in love with it and the horse that she gets to lease to compete with. Kylie was super excited about competing at this year at the Quarter Horse Congress show in the reining event with her new mount. Kylie will miss being Lil Miss Keystone State Rodeo. She really enjoys the rodeo life! She is thankful that her horse Chick has been such a good sport carrying the flag , but hopefully the next time you see them, together they'll be chasin' some cans!